Sweet Potato is a dish introduced in Cooking Mama 2.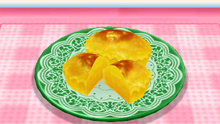 A sweet potato is a special variant of a normal potato in which it is sweet, or sweetened with brown sugar and used in a dessert-like role, instead of meaty, savory dishes.
Here in Cooking Mama, it instead refers to a Japanese, cake-like dessert which involves pureeing Japanese sweet potatoes (not to be confused with yams) and piped into oblong molds. As the potatoes used to make this recipe have its own Japanese translation, these cakes are referred in Japan as Sweet Potato the same way it would be pronounced in English.
Cooking Mama 2
Edit
Wrap it in foil!
Set the oven!
Scoop out a sweet spud!
Strain it!
Separate the egg!
Boil it!
Add the filling!
Spread it on with a brush!
Bake in the oven!
Ingredients
Edit
Sweet Potato
Egg Yolk
Sugar
Salt
Milk
Butter
Peel
Steam
Mash
Strain
Seperate the yolks
Boil
Squeeze
Spread butter
Bake in the oven
Ingredients
Edit
Sweet Potato
Butter
Egg yolks
Salt
Milk
Sugar
Cut the ingredients!
Boil it!
Crush it!
Mix it with the blender!
Squeeze it!
Bake in the oven!
Ingredients
Edit
Sweet Potato
Butter
Sugar
Milk
Ad blocker interference detected!
Wikia is a free-to-use site that makes money from advertising. We have a modified experience for viewers using ad blockers

Wikia is not accessible if you've made further modifications. Remove the custom ad blocker rule(s) and the page will load as expected.