Spaghetti Carbonara is a recipe first introduced in Cooking Mama Lets Cook!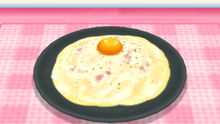 Info
Carbonara is a pasta dish made with eggs, cheese, bacon, and black pepper. The eggs are stirred with the pasta over a low heat to create a creamy texture. Spaghetti is typically the pasta used to make this dish.
Cooking Mama Let's Cook!
Recipe
Use the pasta machine!
Boil the pasta!
Cut the ingredients!
Break the eggs!
Mix it!
Stir fry it lightly!
Ingredients 
Pasta
Bacon
Egg
Cheese
Fresh Cream
Salt
Black Pepper
Garnished with a single egg yolk
Trivia
Gallery