Seafood Curry is a recipe introduced in Cooking Mama.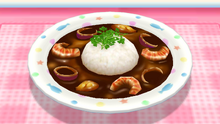 Info
Curry is a sometimes spicy dish composed of a bunch of rice and meat, potato, sauce, or sometimes grated apples. A seafood curry in particular is seafood based as the name implies.
Cooking Mama
Recipe
Peel the shrimp!
Cut the squid!
Slice up!
Saute!
Measure and add!
Stew!
Ingredients
Shrimp
Squid
Onion
Water
Curry Roux
Served with rice
Recipe
Clean the shrimp!
Clean the squid!
Remove from the shells!
Stir fry it!
Boil it!
Put it in the container!
Ingredients
Shrimp
Squid
Clams
Tomato Puree
Salt
Pepper
Curry Roux
Rice
Coriander
Gallery
Ad blocker interference detected!
Wikia is a free-to-use site that makes money from advertising. We have a modified experience for viewers using ad blockers

Wikia is not accessible if you've made further modifications. Remove the custom ad blocker rule(s) and the page will load as expected.