Lucy is the main female baby character on
Babysitting Mama
. She is the second baby unlocked after you play after
Yuto
. Just like the other babies, she has not made many other appearances outside out this game.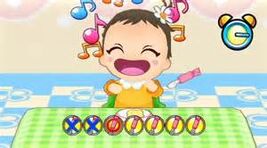 She is voiced by Masayo Hosono.
Personality
Lucy seems to like orange and yellow given her attire and book coloring. She also seems to like daisies/flowers. Out of all the girl babies, Lucy is most likely the most even-tempered, happy, and gentle. She isn't nearly as fussy.
Appearance
Lucy has fair-pale tanned skin coloring and brown-black eyes. She has dark brunette hair that is short and about ear in length with a small ponytail worn with a daisy hair ornament.
Lucy wears a orange shirt/dress with a daisy on the left-side. Daniel and Koyuki and Yuto
Gallery
Ad blocker interference detected!
Wikia is a free-to-use site that makes money from advertising. We have a modified experience for viewers using ad blockers

Wikia is not accessible if you've made further modifications. Remove the custom ad blocker rule(s) and the page will load as expected.