Koyuki is the sixth/final baby on Babysitting Mama, and as such, she is considered to be both the hardest out of all the babies, and hardest female baby to take care of. She can be unlocked by completing William's book. She is voiced by Satomi Moriya.
Just like the other babies she has not made many appearances outside the game other then few cameos.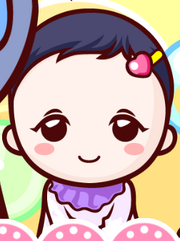 Personality
Edit
Koyuki is an Asian baby that loves the colors purple and white. She seems to have an affinity towards hearts, also. Despite her seemingly quiet and shy nature, she is known for making quite a scary face when there are other babies fussy.
Appearance
Edit
Koyuki is an Asian baby with very pale skin, black eyes and dark purple-black hair that is short and lines her head, worn with a yellow and pink heart shaped hair clip. Her eyebrows are the same color as her eyes.
She wears a white shirt with pale purple lining, neck, and skirt.
Ad blocker interference detected!
Wikia is a free-to-use site that makes money from advertising. We have a modified experience for viewers using ad blockers

Wikia is not accessible if you've made further modifications. Remove the custom ad blocker rule(s) and the page will load as expected.