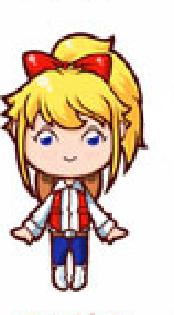 Kate is one of the friends introduced in 
Cooking Mama: Cook Off
,
Cooking Mama 2: Dinner with Friends
, and
Cooking Mama: World Kitchen
. She also appears in the
Cooking Mama World Episodes
. Also, she is a character in Cooking Mama 3: Shop and Chop, Crafting Mama, and Gardening Mama 2: Forest Friends.
Personality
Edit
As the most popular girl in Ringo's middle school, Kate is a friendly, kind, generous, spunky, bubbly, loyal and faithful girl who is the captain of the cheerleading squad, the soccer team, and the softball team. Although she is from Texas and her brother David says she can be a little mean, she is just a bit misunderstood cause she is actually very friendly and generous, and she always puts duty before beauty first. Don't let that "Mean Girl" and 'better than everyone else" mood fool you. Kate can put her effort into her job and is a nice girl. She has the hard-working spirit of an American and the heart of a very good friend. And that is only one good thing about this popular Texan girl.
Appearance
Edit
Kate is a light-skinned girl with small, bright blue eyes. She is usually shown smiling.In some games she has freckles, in others she doesn't. She has long blonde hair worn up in a ponytail held with a crimson-red bow. She has spiked bangs covering her forehead and two long strands of hair that go over each ear and down to her chest. Kate wears a white, long-sleeved shirt with an opened red vest, blue jeans with a brown belt, and tall white cowgirl boots. She wears an orange-brown cowgirl hat around her neck.
"Mmm.... that was tasty!"
"Heh-heh... wish I could have tried some!"
"Mmm… It doesn't get any better than this."
"Oh. I can't eat anymore!"
"We just can't get anything done right."
"Sorry. I didn't mean it."
"Give my friend a holler sometime!"
"How are you doing? I'm Kate."
"Woo-hoo!"
"Oh, let's get that record!"
"Sorry, this wasn't really my taste."
Kate is one of the few characters in Cooking Mama with colored eyes.
Kate has a younger brother named David.
Ad blocker interference detected!
Wikia is a free-to-use site that makes money from advertising. We have a modified experience for viewers using ad blockers

Wikia is not accessible if you've made further modifications. Remove the custom ad blocker rule(s) and the page will load as expected.