Ivan is one of the charaters in Cooking Mama: Cook Off (know as "Russian Friend") and Cooking Mama: World Kitchen. His age is never know though he looks to be around Ichigo and Ringo.
He only appear in Wii games, not in DS versions.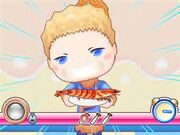 Personality
Edit
Ivan is the amazing, nutty brother of Natasha and twin baby siblings, Emma and Daniel and the best friend of Ichigo and Ringo. He is always wanting food, and totally demanding of a lot of stuff. With a lot of crucial minds, he's not afraid to say what's on his mind. Or in this case, eat what's on the plate! And it's no wonder this man is the most perfect person in the neighborhood!
Appearance
Edit
He is a ligth-fair skinned Russian boy with short blonde hair and blues eyes. He is always shown with a grin and sometime blushing cheeks.
He wears a tan hat, blue coat with tan fur and cuffs, blue pants and tan boots
"Mmm...I'm hungry!"
"I'm starving!"
"Make it good!"
"Oh, man...the taste has blown me away!"
"This is a taste explosion! Can I have seconds?"
"Next time, be sure to give my friend tons of food!"
Ad blocker interference detected!
Wikia is a free-to-use site that makes money from advertising. We have a modified experience for viewers using ad blockers

Wikia is not accessible if you've made further modifications. Remove the custom ad blocker rule(s) and the page will load as expected.