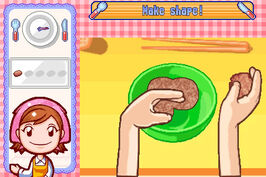 The hamburger stewed in tomato sauce is a recipe that first appears in Cooking Mama.
A simple hamburger/meat dish that has been stewed in a soupy tomato sauce.
Cooking Mama
Edit
Slice an onion!
Slice!
Topaz!
Melt the butter!
Pan fry!
Buster
Simple?
Knead!
Make Shape! (Special)
Pan fry!
Ingredients
Edit
Hamburger Stewed in Tomato Sauce and French Fries are the only meals in Cooking Mama Lite which can be download for free.
In Cooking Mama Lite, the Pan Fry stage DOES exist, in the latest update.
This is the only meal that contains the step "Make Shape!"
This is the only meal that in Pan fry! (Last) step you have "Close With Lid" and "Add" with a Tomato sauce.
Ad blocker interference detected!
Wikia is a free-to-use site that makes money from advertising. We have a modified experience for viewers using ad blockers

Wikia is not accessible if you've made further modifications. Remove the custom ad blocker rule(s) and the page will load as expected.