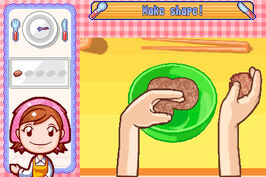 Hamburger Stewed in Tomato Sauce is a recipe that first appears in Cooking Mama.
Info
A simple hamburger/meat dish that has been stewed in a soupy tomato sauce.
This recipe is unlocked through Salisbury Steak.
Cooking Mama
Recipe
Slice an onion!
Slice!
Chop up!
Melt the butter!
Saute!
Add the ingredients!
Knead!
Make shape!
Pan-fry!
Ingredients
Onion
Butter
Minced Meat
Egg
Bread Crumbs
Milk
Tomato Puree
Garnished with parsley
Trivia
Hamburger Stewed in Tomato Sauce and French Fries are the only meals in Cooking Mama Lite which can be download for free.
In Cooking Mama Lite, the Pan Fry stage initially was not added until the game updated.
This is also the only meal that in Pan fry! step you have "Close With Lid" and "Add" using tomato sauce in Cooking Mama.
Gallery