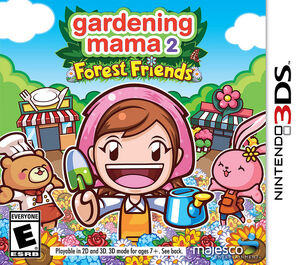 Gardening Mama 2: Forest Friends
is the sequel to the original 
Gardening Mama
. This game has been released for the Nintendo 3DS at September 26, 2013 in Japan, and April 29, 2014 in North America, making this the second game released for the 3DS.
Game Modes
Edit
Tend the Plants! - The main game mode where you grow plants and help the forest friends.
Help out! - You could play various minigames here.
Take a photo! - Take a photo with the Nintendo 3DS Camera and decorate it with backgrounds and garden items.
Aside from those three game modes, there is also a setttings page where you could delete your data, turn on or off Spotpass Notifications, or to view the credits.
Characters
Edit
Forest Friends

Bear
Rabbit
Penguin
Squirrel
Cat
Dog
Plants Grown
Edit
Daisy
Carnation
Tulip
Rose
Sunflower
Pansy
Marguerite
Morning Glory
Sweet Pea
Hyacinth
Crocus
Aliium
Calla Lily
Hydragea
Lily
Buttercup
Narcissus
Gladiolus
Vegtables
Edit
Eggplant
Bell Pepper
Strawberry
Tomato
Carrot
Cucumber
Melon
Sweet Corn
White Radish
Potato
Mint
Melon
Pumpkin
Cabbage
Cauliflower
Peanut
Turnip
Onion
Chili Pepper
Shallot
Orange
Lemon
Chestnut
Apple
Grape
Cherry
Pinapple
Kiwi
Peach
Pear
Banana
Blueberry
Ad blocker interference detected!
Wikia is a free-to-use site that makes money from advertising. We have a modified experience for viewers using ad blockers

Wikia is not accessible if you've made further modifications. Remove the custom ad blocker rule(s) and the page will load as expected.