Galette is a recipe introduced in Cooking Mama Lets Cook!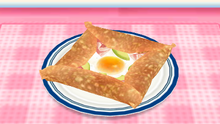 Galette usually refers to French-styled freeform cakes/pastries, but this recipe follows the style of a Breton galette, which uses a crêpe made from buckwheat flour. Although the toppings vary, it is meant to be eaten as a savory dish.
Cooking Mama Let's Cook!
Edit
Sift it!
Mix it!
Break the eggs!
Cut the ham!
Cut the ingredients!
Make a galette!
Ingredients 
Edit
Buckwheat Flour
Salt
Water
Egg
Serrano Ham
Avocado
Pepper
Ad blocker interference detected!
Wikia is a free-to-use site that makes money from advertising. We have a modified experience for viewers using ad blockers

Wikia is not accessible if you've made further modifications. Remove the custom ad blocker rule(s) and the page will load as expected.