Fried Egg
is a dish that was introduced in
Cooking Mama
. It's one of the easier recipes in the Cooking Mama series.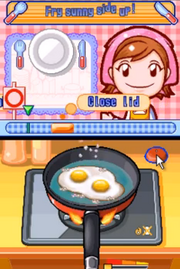 Info
A fried egg is one of the more common and easy preparation of making eggs for breakfast or a light snack. Fried eggs are fairly simple and only require a frying pan and grease or water. They can also be made together with a huge variety of ingredients.
In this game, this recipe is referred as Egg Sunny-Side Up
Recipe
Melt the butter!
Break an egg!
Fry sunny side up!
Ingredients
Recipe
Fry the egg!
Ingredients
Egg
Water
Served with broccoli
Touch and move the eggs on the frying pan to crack them
Move into the pan
Trivia
Gallery