Deliver the gift! is a minigame in
Crafting Mama
.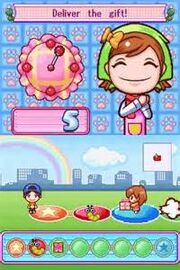 Introduction
Edit
In this minigame the player must help Ichigo delivery the gifts to their friends, by rolling the dice to help her made in to the friends. Beware the Caterpillars.
This is the only minigame where you can gift your creations to your friends.
It a minigame you get when you make a dice.
Ad blocker interference detected!
Wikia is a free-to-use site that makes money from advertising. We have a modified experience for viewers using ad blockers

Wikia is not accessible if you've made further modifications. Remove the custom ad blocker rule(s) and the page will load as expected.