David is one of the friends in
Cooking Mama: Cook Off
(known as "American Friend'),
Cooking Mama 2: Dinner with Friends
,
Gardening Mama,
Cooking Mama 3: Shop & Chop
and
Cooking Mama: World Kitchen
.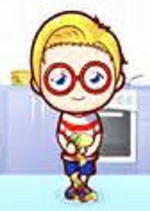 He age is unknown but he seems to be around the same age as Ringo and Ichigo.
Personality
Edit
As the little brother of the snobby but helpful Kate, David is no stranger to keeping a smile on his friend and being kind to his friends. He has a very cool head and a good personality. He is a very down-to-earth boy and a good apple. There is no problem David can learn to solve with a helping hand and a little imaganation of his own. With his two poodles, David can make a little magic of his own. And that's no joke about this proud American boy!
Appearance
Edit
He ia a fair-skinned American boy with short blonde hair and blue eyes worn behind a round pair of red glasses.
He wears a plain outfit consisting of a red and white striped shirt, a pair of blue jean shorts, white socks, and blue sneakers.
"You're the best!"
"Awesome!"
"You can do it!"
"Mmm... I give it 3 stars!"
"Yes!"
David one of the few friends with colored eyes, as well as wearing glasses.
Ad blocker interference detected!
Wikia is a free-to-use site that makes money from advertising. We have a modified experience for viewers using ad blockers

Wikia is not accessible if you've made further modifications. Remove the custom ad blocker rule(s) and the page will load as expected.