Cooking Mama 2: Dinner with Friends
(or simply
Cooking Mama 2
in the UK) is the sequel to the Nintendo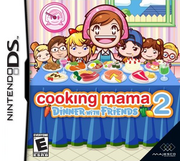 DS video game
Cooking Mama
and its Wii successor,
Cooking Mama: Cook Off
. The game has twice as many minigames as the original, all new recipes, and a new multiplayer "Cook Off" mode.
The game also includes voice clips similar to the ones used in Cooking Mama: Cook Off, although not as commonly used. Dinner with Friends is the second Cooking Mama game to include desserts, the first being Cooking Mama: Cook Off for the Wii.
The successor to this game, Cooking Mama: World Kitchen for the Wii, was released on November 18, 2008.
Let's Cook: The basic, main mode where the player can practice and cook yummazing dishes!
Cook Off: A challange mode where the player mustn't fail ANY steps and is not given any instructions between them. A friend will then try out the food and rate it.
Cooking Contest: Wireless multiplayer between 4 people!
Characters Introduced
Edit
Strawberry Roll Cake (See Cakes)
Hotcake (See Pancakes)
Unlockable Items
Edit
This was the first game to allow customization and give the player special presents upon completing dishes and tasks.
Mama's normal attire: Yellow, Pink, Blue, Green, Yellow
Kimono: Green and blue, Pink and magenta, blue and lilac, yellow and blue, purple
Princess Dress: Pink, Blue, Yellow, Green, Purple
Shirt and pants: Yellow and blue, Pink and light blue, Blue and yellow, Green and dark blue, orange and white
Chinese Dress: Red and yellow, Yellow and blue, Blue and green, Green and yellow, Pink and red
Spanish Dress: Yellow and red, red and yellow, gray and red, teal and dark blue, blue and purple
Cheerleader: Blue and yellow, Yellow and green, pink and blue, Blue and ice blue, blue and soft red
Cafe Worker: Blue and pink with white shirt with blue jeans, pink and red with yellow shirt with brown jeans, yellow and blue with white shirt and green jeans, blue and yellow with white shirt and red jeans, white with white and white shirt and blue jeans
Tuxedo: Black, red, brown, white, gold
Chef: White and red, Yellow and red, pink and yellow, blue and white, green and blue
Accessories
Edit
Glasses: Red frames, blue half frames, gold monocle, green bottom frames
Earrings: pink hearts, blue stars, yellow lemons, green peppers
Head/Hair: Pink tiara, Blue gem tiara, Gold and pink gem tiara, normal gold crown with pink gem
Ribbons: Pink doubles, green single, blue flower clip, double flowers
Bandana: Pink, blue, yellow, green, pale pink
Color-Change Utensils
Edit
These do not need to be unlocked and can be changed upon first starting the game:
Skillet: Red, teal, dark blue, yellow, green
Pot: Same
Knife: Blue, Red, Orange, Yellow, Green
Cutting Board: Blue, Pink, Yellow, Green, Gray
Meat Grinder: Orange and blue, red and ice blue, dark blue and yellow, yellow and blue, Green and pink
Peeler: blue, red, orange, yellow, green
Oven: Blue with yellow, Red with blue, Orange with dark blue, Yellow with purple, and Green with pink
Top Screen
Edit
These do not need to be unlocked either!
Background: Kitchen, Snowy Cabin, Castle, Night time room, Outside shack during sunset/sunrise  *note- does need to be unlocked
Clock: Pink circle smiling mama, sky blue square frowning mama, dark blue octagon winking mama, yellow octagon perky mama, green lime happy mama
Bar/Meter: Blue and green, pink and blue, yellow and blue, green with blue, and purple with blue
These are more color changing items that do not need to be unlocked
Counter: Red, Orange, Blue, Green, Gray
Stove: Dark blue, red, orange, yellow, green
Sink: Pink, blue, yellow, green, gray
A special new feature, just in this game allows players to save their favorite results for a Diary and upon unlocking special stickers (some, if not all being animated) the player can decorate the diary. A total of 8 entries can be made, but they can deleted or edited at any time given. On the top screen it displays the recipe, the date made, and rating.
There are 5 pages of unique items on each for a total of 25 topics of stickers to chose from for a total of 160 stickers!
The following can be unlocked:
Borders: Page, rainbow, pink colorful, yellow triangles, picture frame, hearts, clouds, flowers on vines, stage curtains, blue squares
Speech Bubbles: Delicious, Well done well done, perfect, thank you, Bon appetite!, Not tasty, love it!, Happy new year, merry Christmas, and Happy Birthday
Weather Emotes: Smile sun, gloomy clouds, rainy umbrella, angry storm, snowflake
Eyes: Wide, Angry, Sarcastic, ><, Glare, Dizzy, girly, teary, love hearts, cat eyes
Lips: Lipstick, Disdain, Growl, fangs, big grin, beauty mole, tongue, dog muzzle, pig, duck
Facial: Whiskers, santa beard, curly mustache, normal mustache, very curly mustache
Head Accessories: Kitty ears, bunny ears, horns, big red bow, green antennae
Portraits of all characters
Foods: Shortcake, Cheesecake, lovely heart cake, yellow cake, chocolate cake, ice cream, yellow and blue icecream, orange icecream in dish, wrapped candy, lollipop
Drinks: Blue Lemon, pink cherry, yellow orange, orange fancy, and purple short glass
Vegetables and Fruits: Tomato, eggplant, pepper, potato, carrot, Melon, Apple, Peach, Grape, Pumpkin
Glasses: Glasses, sunglasses, white sunglasses, green mask, dizzy eye glasses
Hats: French beret, chef hat, top hat, sun hat, pink wizards cap
Special: pink present, blue present bag, treasure chest, pink blue and yellow bouquet, red roses
Utensils: Green knife, pink fork, yellow spoon, red pot, red pan
Toys: Rocket, airplane, car, robot, teddybear
Shiny decals: Heart, star, crescent moon, blue diamond, purple crystals
Top banners: Streamers, flowers, ribbons, roses, stars
Finger Signs: White peace, blue wave, yellow thumbs up, pink OKAY, green point
Flags:
Flowers: Rose, Daisy, Tulip, Sunflower, Carnations
Animals: Rabbit, puppy, kitty, fish, butterfly
Emoticons: Laughing, Scared, Angry, Crying, Happy
Emotions: Sweadrop, Music note, angry vein, shock, love
Christmas: Pine tree, snowy tree, Santa, Stocking, Christmas lights, Star, candle, santa hat, Merry Christmas sign, Snowman
In this game, three pure gold trophies will be awarded to the player for completing certain task:
Receiving all items
Getting gold on all "Let's Cook" dishes
Getting gold on all "Cook Off" dishes
During the month of December, Christmas items are unlockable. Including Mama dressed as Santa and a Christmas background. 
This game introduces the concept of choosing which tool to use during a step. For example, when mixing ingredients the player could pick the chopsticks or whisk. By choosing the right object the task was much easier, but picking the wrong one made it difficult. 
There is a recipie called "NONE" that can be acsessed via glitches, however it only contains 13 "Chop It!" Minigames And. 1 "Boil It!" Minigame. Selecting any step will softlock the game.
Ad blocker interference detected!
Wikia is a free-to-use site that makes money from advertising. We have a modified experience for viewers using ad blockers

Wikia is not accessible if you've made further modifications. Remove the custom ad blocker rule(s) and the page will load as expected.