Clara is one of the characters in
Cooking Mama: Cook Off
(known as "French Friend") you challenge with. she appears again in
Cooking Mama: World Kitchen
where the player makes a dish for their friends. She also appears as a cameo in
Bento A Go-Go
as a cameo along with
Kate
and
Sakura
.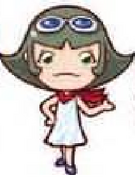 Personality
Edit
Meet Clara, the French girl with an eye for fashion and a sarcastic sense of humor, a keen for perfection and a sense to work hard. While she can come off as a bit of a perfectionist, Clara truly knows how to have a good time and be a good friend. She loves to bake, go shopping and hang out with her friends Kate, Sakura, and Maylee. Whether she's out with her friends or giving her all in school, Clara is the enthusiastic, witty and hard working girl next door!
Appearance
Edit
Clara is a young French girl with fair skin and green-gray-eyes. Her hair is gray and cut short and flips out on each side. Clara also has bangs and two strands over each ear that end at her cheekbones. She wears a white sleeveless dress with blue shoes and a red scarf. Clara wears blue and white sunglasses on her forehead.
"Fabulous!"
"Wonderful!"
"That was delicious!"
"Simply amazing!"
"What did you expect?"
"Are you serious?"
"ARE you kidding me?!?"
"What did you expect?"
Clara is the only friend who has colored eyes that are not blue (they are green-gray.)
Ad blocker interference detected!
Wikia is a free-to-use site that makes money from advertising. We have a modified experience for viewers using ad blockers

Wikia is not accessible if you've made further modifications. Remove the custom ad blocker rule(s) and the page will load as expected.