Albert is one of the characters in
Cooking Mama: Cook Off
(known as "German Friend") and
Cooking Mama: World Kitchen
.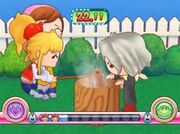 Personality
Edit
Albert is the most perfect boy in the face of the neighborhood. Being good at baking and making music with his cello, Albert is no stranger to hard work and helping out. With a little music and some help out there, it's no wonder this man from Germany is an inspiration to everyone.
Appearance
Edit
Albert is a ligth-fair skinned German boy with a German accent. He has gray hair and brown eyes.
He wears a black tuxedo with yellow shirt and red bow tie, red pants and black shoes.
"I'm serious! Best in the universe!"
"I mean it! Nothing in the world tops this!"
"Fantastic!"
"Hand in there!"
"Uh-huh!"
"You've got the moves!"
"That's how it's done!"
"Mmm, the best dish in the universe!"
Ad blocker interference detected!
Wikia is a free-to-use site that makes money from advertising. We have a modified experience for viewers using ad blockers

Wikia is not accessible if you've made further modifications. Remove the custom ad blocker rule(s) and the page will load as expected.